THE LD REFERENCE BOOK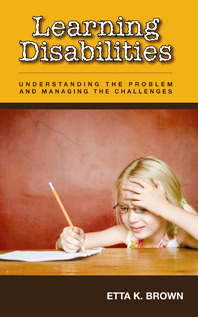 Learning Disabilities, Understanding the Problem and Managing the Challenges
If you are not sure what the challenges are, and you want to know what you can do to support a child you love, you will find this LD Reference Book to be very helpful. The author has taken a large volume of useful information and simplified it into a little book small enough to fit into a purse or pocket. There is even an electronic version that you can read on your cell phone.
Written from the unique perspective of a veteran educator it combines the most relevant information from her 25 years of experience into one little powerhouse of information. In it you will discover what you, as a parent, teacher or caretaker, will need to know about managing the challenges presented by children with learning disabilities, and the need for a special education.
This book discusses in detail
what your child needs in the way of an appropriate individualized education that will assure his success at school,
what you need to do to assure that he gets what he needs, and
the laws that will support your efforts.
THE TABLE OF CONTENTS
I. Understanding the Problems
An introduction to the concept of learning disabilities and the environmental influences that affect the child's ability to learn.
Learning Disabilities

Environmental Influences

Immature Development

Parenting

Emotional Problems

Nutrition, Alergies, Hypoglycemia

Sleep and Learning

Toxic Metals
II. Managing the Administrative Challenges
A definition and history of special education and the process of determining eligibility
Laws that Govern Special Education

The Individualized Education Plan

Educational Advocacy

Tests and Testing

Advocacy at its Best
III. Managing the Challenges in the Classroom
Signs and symptoms of learning disabilties with accommodations and modifications for home and the classroom
Visual processing

Auditory processing

Sensori-Motor Integration

Attention

Attention Deficit Disorder

Endnotes
How to Use the LD Reference Book...
When reading a reference book you do not have to read the whole book just the parts that answer your immediate questions. You can read the other parts later when new questions arise.
If you follow these examples throughout the process of deciding whether your child would benefit from special education, and you remember to refer to this little reference book often, you will quickly reap the reward of
a happy stress free school year.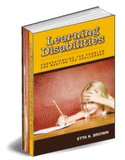 An electronic version (eBook) is available for international orders and others who may prefer a digital copy. Look for an immediate email from Pay Pal with a download link.
You are not in this alone...
Along with the purchase of the LD reference book, a licensed professional will help by
explaining anything you do not understand
interpreting the law
explaining your rights
reviewing the school's documents, and sometimes,
just listening and talking you through the hard spots.
Your purchase of Learning Disabilites, Understanding the Problem, Managing the Challenges has all these benefits
you will never have to spend any more money on your child's learning disability
your purchase will help to keep this website on the internet
we will remain available for as long as you need us. That is,
free contact by fax, phone, or email as often as you feel the need it.
The cost is only $19.95, and even less for an eBook to read on your cell phone or other electronic device.
There are 100 copies of the first edition available for sale. Purchase the ebook and we will send you the first edition for free. Place your order by clicking here.