Contact Etta Brown
Welcome, and thank you for your interest in
Understanding Learning Disabilities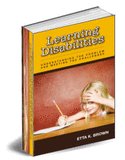 Please feel free to communicate with the author in any way that you feel comfortable. You may choose to share impressions, likes or dislikes about the book or learning disabilities. If you just need to "share it with someone who understands", this is the place. We look forward to your sharing.
If you have unique experiences from which you think others would benefit or some bragging rights after a successful IEP negotiation, post them in the form below and let us know if we can share them with others.
If you have an immediate need for professional services, information or help, please contact us here for a quicker response , and let us know of it's urgency.
Or, if you are in an IEP or other meeting at school and you need immediate reinforcements you can call us at 510 652-6831. We're in Oakland, California.
Please use the form below to post your questions, comments, or other feedback and they will be heartily welcomed.